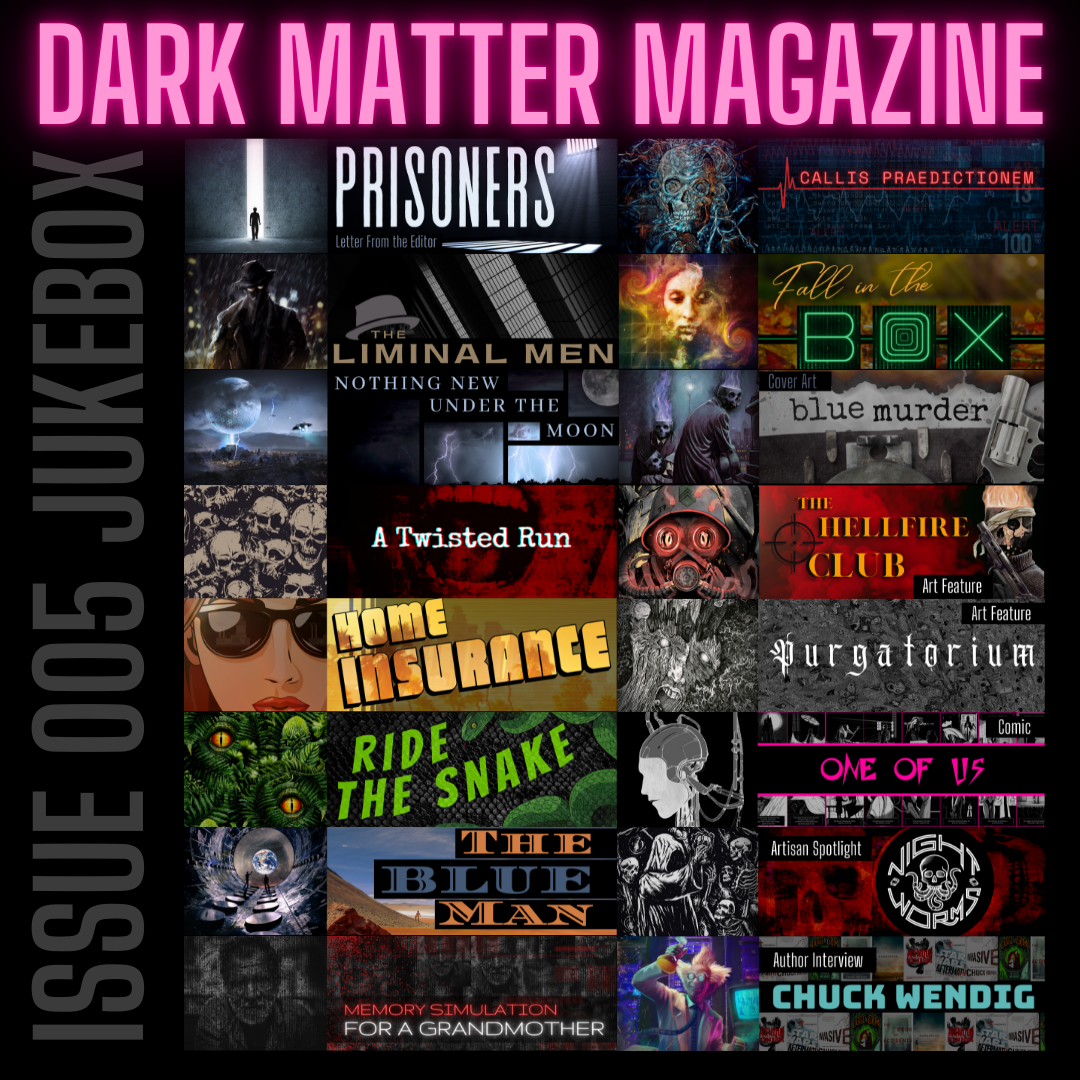 Dark Matter Magazine Issue 005A Variant
Return again and again to the gruesome scene of the crime with this BLUE MURDER variant for Dark Matter Magazine Issue 005, the magazine that promises to be your new one-stop shop for dark science fiction and horror. Issue 005 contains 100 pages of original, never before published stories by a mix of industry vets and newcomers, cover art by a surrealist master, and interior artwork by top talent. This variant will be EXTREMELY LIMITED, so get yours today before they sell out. We will NEVER do another print run of this variant again once the initial run is gone.
FEATURING
"Callis Praedictionem" by Renan Bernardo
"Ride the Snake" by Claudine Griggs
"The Liminal Men" by Thomas Ha
"The Blue Man" by Dawn Lloyd
"Home Insurance" by Gideon Marcus

"A Twisted Run" by Guy McDonnell

"Memory Simulation for a Grandmother" by Vikram Ramakrishnan
"Nothing New Under the Moon" by Malena Salazar Maciá, translated by Toshiya Kamei
With reprint story, "Fall in the Box" by Bob Ritchie
Short comic by Louis Rosenberg, illustrated by Olha Bondarenko
Original cover art by Olly Jeavons (aka artofolly)
Interior art features by Olly Jeavons (aka artofolly) and Anthony Christopher

An artisan spotlight on horror book subscription company, Night Worms
And an author interview with bestselling author, Chuck Wendig; feature by Janelle Janson
SPECS
Blue Murder variant cover

6" x 9" paperback, perfect bound
Color interior
148 pages
SKU 2370001580831
This item is non-refundable.