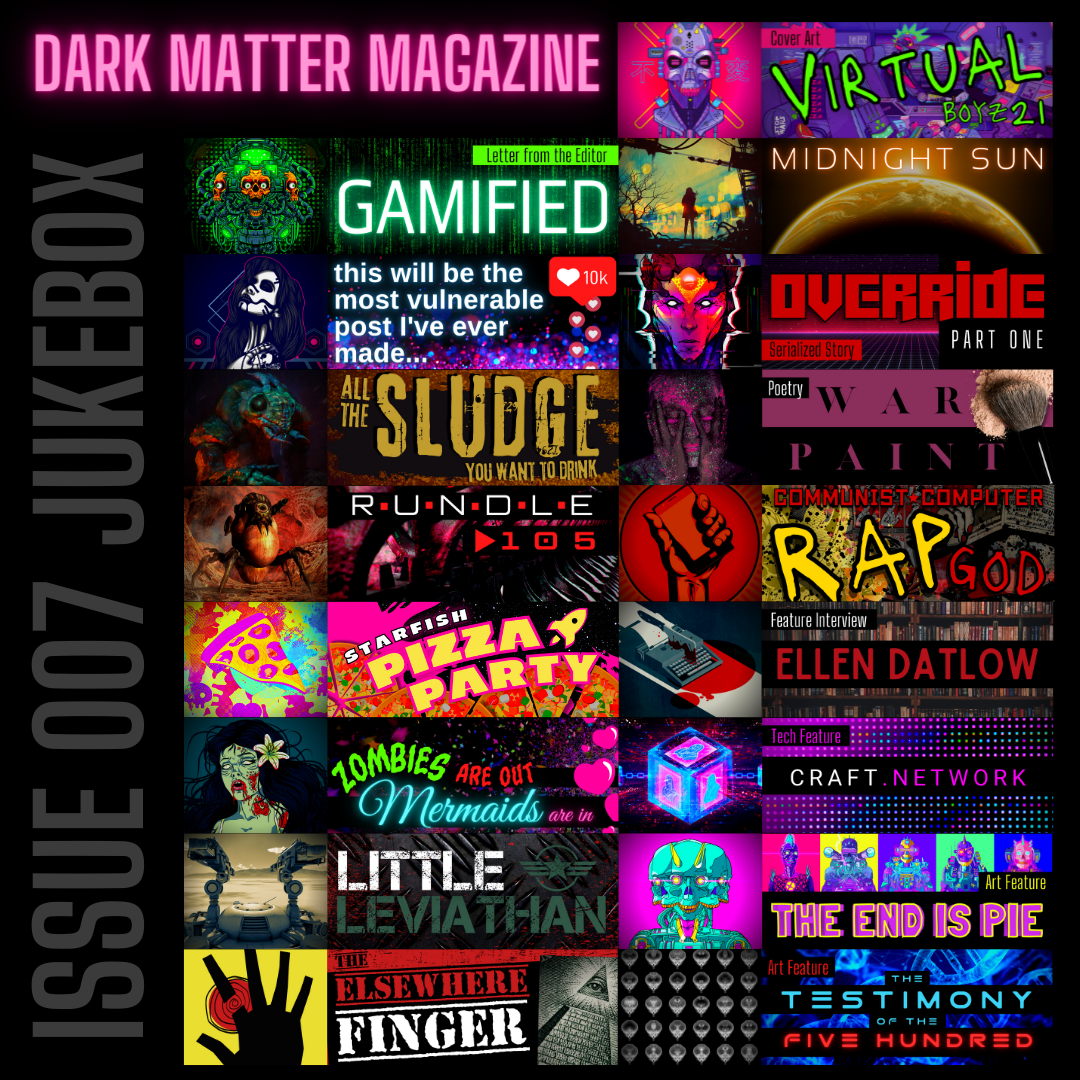 Issue 007 Jan-Feb 2022 Digital Download EPUB
Welcome to the virtual reality future in Dark Matter Magazine Issue 007, the magazine that promises to be your new one-stop shop for dark science fiction and horror. Issue 007 contains nine original stories, one reprint story, one poem, part one of a serialized novella, interviews with industry leaders, interior artwork by top talent, and an augmented reality cover art by a programming art master.

This is only the EPUB version of Issue 007.
FEATURING
"This Will Be the Most Vulnerable Post I've Ever Made" by Marissa van Uden
"All the Sludge You Want to Drink" by Mary G. Thompson
"Rundle 105" by Beth Goder
"Starfish Pizza Party" by Nikki R. Leigh
"Zombies Are Out, Mermaids Are In" by Ivy Grimes
"Little Leviathan" by Michael Canfield
"The Elsewhere Finger" by Bill Gusky
"Midnight Sun" by Alex Woodroe
Part one of serialized novella "Override" by Warren Benedetto
Poem, "War Paint" by Gerri Leen
Art feature story, "The Testimony of the Five Hundred" by Andy Dudak
With reprint story, "Communist Computer Rap God" by Andrea Kriz
A feature interview with legendary editor, Ellen Datlow; feature by Janelle Janson
A interview with blockchain start-up Craft Network
Augmented reality cover art by Rob Shields
And interior art features by Rob Shields and Radiant Void Labs
SPECS
EPUB file format

Color interior
File size: 9.55 MB

This item is non-refundable.