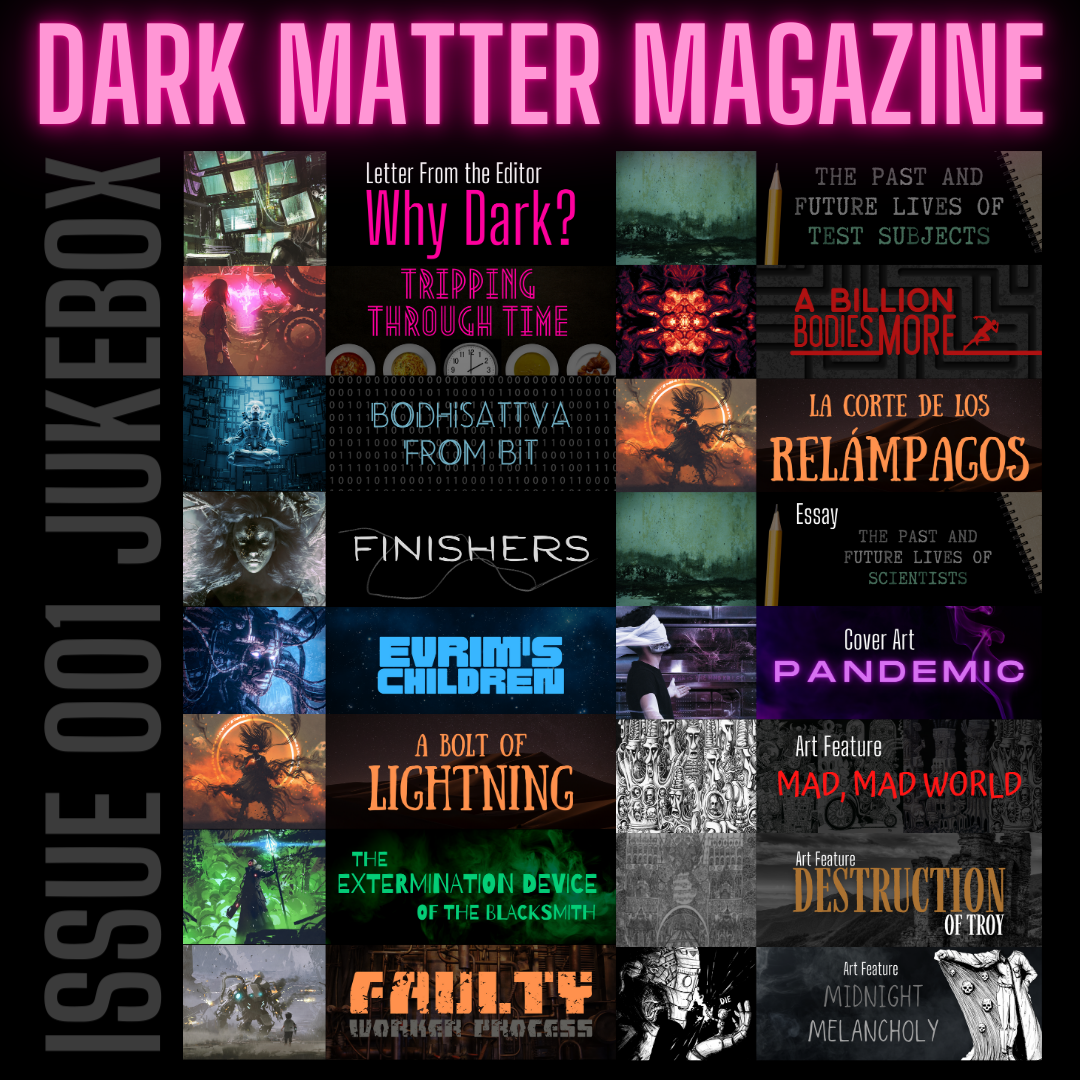 Issue 001 Jan-Feb 2021 Digital Download EPUB
BEHOLD! The super-sized inaugural issue of Dark Matter Magazine--your new one-stop shop for dark science fiction and horror. This issue contains eight original, never before published stories by a mix of industry vets and newcomers, a reprint prose story by a comic book star, original cover art by an industry great, and interior artwork by a variety of top talents.
Read a sample of all the stories included in this issue on our Current Issue Sample page.
Listen to a sample of our future audio offerings here.
This is only the EPUB version of Issue 001.
This format is reflowable, which means the format automatically re-adjusts to fit the size of the whatever screen you're reading on. It can also be re-adjusted manually.
FEATURING
"Faulty Worker Process" by Derrick Boden
"The Past and Future Lives of Test Subjects" by Octavia Cade
"Bodhisattva From Bit" by Andy Dudak
"Tripping Through Time" by Rich Larson
"Evrim's Children" by Ray Nayler
"Finishers" by Christi Nogle
"A Bolt of Lightning" by Malena Salazar Maciá, translated by Toshiya Kamei
"The Extermination Device of the Blacksmith" by Solomon Uhiara
With a reprint story by Sloane Leong: "A Billion Bodies More"
An essay by Octavia Cade: "The Past and Future Lives of Scientists"
En Español: "La Corte de los Relámpagos" por Malena Salazar Maciá
Original cover art by Richard Wagner
And interior art by Arula Ratnakar, and André Vieira Auer.
SPECS
Issue 001, Jan-Feb 2021
EPUB reflowable format

Color interior
This item is non-refundable.