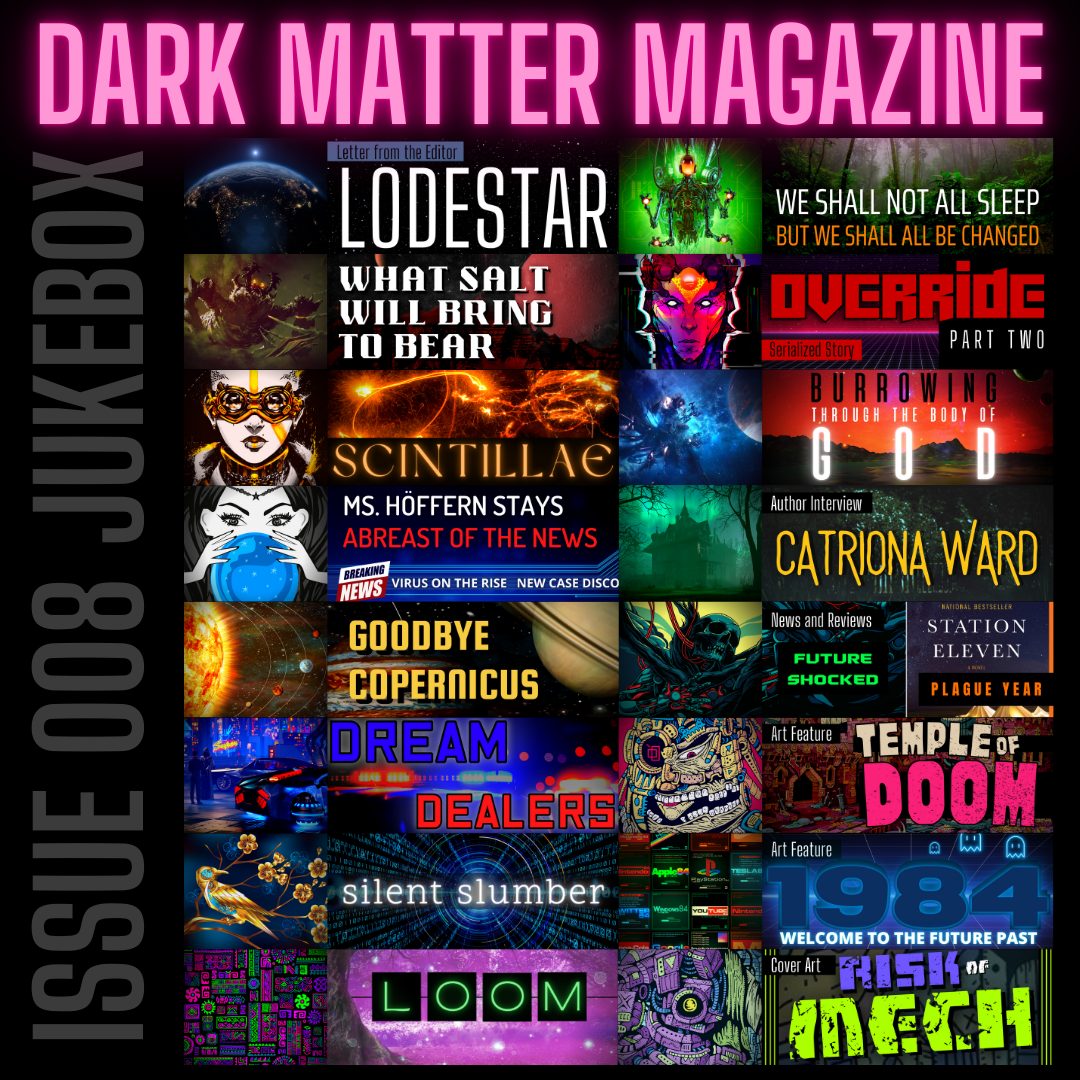 Issue 008 Mar-Apr 2022 Digital Download EPUB
Welcome the robot uprising with Dark Matter Magazine Issue 008, the magazine that promises to be your new one-stop shop for dark science fiction and horror. Issue 008 contains 136 pages of content, including eight original stories, one reprint story, part two of a serialized novella, an interview with a bestselling author, two art features, and interior artwork by top talent.
This is only the EPUB version of Issue 008.
FEATURING
"We Shall Not All Sleep, But We Shall All Be Changed" by Eneasz Brodski
"Goodbye Copernicus" by Justin Diviney
"Scintillae" by Ariel Marken Jack
"What Salt Will Bring to Bear" by Sloane Leong
"Ms. Höffern Stays Abreast of the News" by Sarah Pauling
"Silent Slumber" by Malena Salazar Maciá, Translated by Toshiya Kamei
"Dream Dealers" by Heather Santo
"Loom" by Solomon Uhiara
Part two of serialized novella "Override" by Warren Benedetto
With reprint story, "Burrowing Through the Body of God" by Rich Larson
A feature interview with bestselling author, Catriona Ward; feature by Jena Brown
Additional content by Janelle Janson and Alex Woodroe
Cover art by Doodleskelly
And interior art features by Doodleskelly and Warakami
SPECS
EPUB file format

Color interior
File size: 11.7 MB

This item is non-refundable.